Hearing Products
East Bay Audiologists offers the latest technology in a variety of styles with many different features. We listen carefully to your hearing needs and concerns, match these with the results of your hearing test and recommend the right technology to help you hear better. Among the many factors we consider are: hearing amplification needs, lifestyle and listening needs, dexterity and visual abilities, available budget, cosmetic concerns, skin sensitivities, and anatomical/medical considerations.
Hearing Technology
Modern Solutions For All Types of Hearing Loss
Thanks to advances in technology, hearing products are designed to be more compatible with our lives than ever before. In addition to hearing aids, there are a number of products that make living and communicating with hearing loss easier to manage, so you never miss a beat.
Hearing aid technology continues to evolve every year. Today, there are plenty of options on the market; all with different features and benefits at varying price points. After your hearing evaluation, our providers will help match you to the best device for your hearing loss, lifestyle and budget.
More on Hearing Aid Technology
Hearing aids are worn either in the ear or behind the ear. Hearing aid price is generally dependent on the technology and the number of features provided and not the style selected. At East Bay Audiologists, we offer various hearing aid styles to fit your needs.
More on Hearing Aid Styles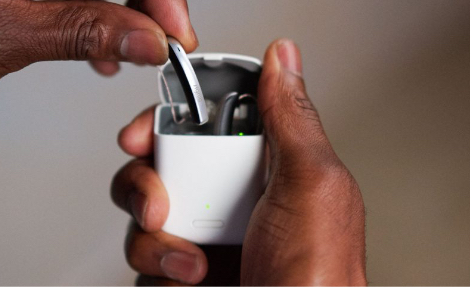 Hearing Product Guide
Curious About Hearing Technology, but Not Sure Where to Start?
With so many styles and options, it can be difficult to know which products will suit your needs. Our Consumer Guide to Hearing Aids provides an in-depth breakdown of the different types of hearing devices, as well as the technology available for all types of hearing loss.
Hearing Aid Manufacturers
Hearing Products Created by the Best in the Industry
When it comes to hearing loss, you need a device you can rely on to perform its best. That's why we carry products from manufacturers with a proven track record of exceptional quality. No matter your budget, lifestyle or type of hearing loss, we have a product to meet your needs.
Oticon Hearing Products
Oticon offers life changing hearing technology. Improve your life when you improve your hearing. Oticon makes staying connected easy and comfortable.
View All Products
Hearing Protection
Make Protection a Priority
Protecting your ears from noise damage is essential to healthy hearing. We carry a wide variety of options equipped with the latest features and customizations, so you can find the best fit for your lifestyle.
Noise induced hearing loss is one of the most common types of hearing loss. Exposure to noise whether briefly or over a long period of time damages the nerve cells in the cochlea. This is preventable with hearing protection. However, over the counter solutions may not be completely effective or may be uncomfortable to wear for extended periods. East Bay Audiologists offers custom hearing protection options that safeguard your hearing comfortably and completely.
More on Hearing Protection